Wow! I can't believe that it's already been 10 years in 2021! I'm still so OBSESSED with every single moment of what I went through in 2011. Yeah, I'm consciously overthinking how much I reflect too much on my shady past, both good and bad memories. But what you're reading here is probably TOXIC, UNHEALTHY, or REPETITIVE.  I was only 19 years old in my naivety and inexperience of real-world problems on my own after completing my high school diploma. 🤔🤷🏿‍♂️
NTID Fall 2011 To March 2012
Demetrius Curtis
Zachary Brain Seguin (Turned Out To Be Pedophile!)
Missouri Is One of The Worst Education Systems In America
November 11, 2011 (Flash Drive Problems)
David Cardona
Emily Borgel (My VR Counselor From Hell!)
Demetrius Curtis
Demetrius Curtis, my 21-year-old roommate, was my first and worst memory of Rochester, New York. He was always a whining bully for four months in a row, and it was NO fun at all! We don't have anything in common! He was born straight and is also deaf who loves playing basketball sports with his friends in 2011. At the time of sharing a bedroom with him on the fifth floor of the Mark Ellington Hall dormitory, which was about 20 yards away from the National Technical Institute for the Deaf building. Demetrius was responsible for heterosexism, homophobia, and discrimination on his part. He was such an immature all the time to bully me and blame me for his personal problems!
I complained to the dorm manager, Ashley Meyer, but she said it wasn't good enough to change rooms. She said we had to figure out how to get along and make etiquette rules and compromises on each other. Eventually, later on in December, she unwillingly agreed to transfer me to another dormitory. I was rooming with another Deaf Black dude who's ten years older than me. He wasn't as bad as you would think, but he smells so bad sometimes.
There will be no further comments at this point! Due to my negative experiences and sense of discomfort for both Demetrius and another roommate, I don't want to talk about them at all!
I wish David Cardona was my first roommate rather than them! Period!
Zachary Brain Seguin
I used my DELL laptop to access my Facebook account and digitally interact with Zachary Seguin through the private messaging chatbox, which was only available through Facebook. We only did typing and talked to each other through the keyboards and monitors between us. Zachary doesn't live where I live, and I didn't live where he grew up. The internet is the only reason I can talk to other people from other countries and 50 states, but NOT in my hometown.
Well, I mean, if this helps make sense to the NON-subscribers or enemies of social media platforms who preferred the old-school technologies, I guess. I don't know.
Our chronological conservations began at 5:51 PM on the 24th of June 2011 and have been going on ever since. I started clicking on the ENTER keyword button of Zak's name on my keyboard and identifying him on the Facebook search engine tool. I found him with trepidation, but it wasn't an automatic feeling of fear. It was a sort of bizarre courage that I felt the need to talk to him. Because, obviously, I like him very much.
Shawn: I just have a few quick questions for you…
Typing on my keyboard…
Shawn: Because I had read the RIT policy online. They required all undergraduate students and newcomers to find roommates on the campus for the first year.
I spent a bit more time on the keyboard while typing.
Shawn: I have no specific person in mind as a potential roommate. You know, for a while there, I thought about you. So…
Typing slowly…
It's where my anxiety starts right before I use my fingers to finish the sentences.
Shawn: I wonder if I'm a potential candidate to be your roommate this Fall semester. How do you feel about that? No?
5:52 PM
Zachary Brain Seguin responded, which surprised me because I never expected him to reply so quickly.
Zak: Hey there! Thanks for asking me, bro! But I've already got my roommate, Mario… Sorry!
5:55 PM
Shawn: That's okay, no problem. Just asking around, that's all. It's okay to request permission, right? The dormitory staff at the Rochester Institute of Technology wanted to know who I was staying with for my first year. I'll contact any person in the FB group who may be interested in sharing a bed with me. I'll figure it out. Not a big deal.
Adds a smiley face to the text.🙂
I didn't smile, though. I was sort of disappointed, but I knew Zak would say that. I've always had my hopes up for nothing, but now I know he doesn't want me to be his roommate. I felt like he's trying to PLAY HARD TO GET or whatever his bullshit was about.
Shawn: So… How are you doing this summer so far? In your post the other day, I read that you were emotionally distraught and dissatisfied with your hearing losses. Your Deaf identity. Did your family members treat you as though you were inferior to them simply because you're deaf?
6:02 PM
Zak texted back to my questions.
Zak: Yeah, I'm OK. Thanks for asking that. I was merely curious what these people thought of my written post in the Facebook Group of NTID's Summer Vestibule Program 2011. I appreciated all the comments I read. Yeah, I told everyone that I hated being left out at home because I'm deaf, and my parents couldn't understand how I felt. We don't have anything in common!
6:10 PM
I started empathizing with him.
Shawn: I don't really blame you, Zak!
I texted him after expressing a sigh of sympathy.
Shawn: The fact that hearing parents are incapable of fully understanding their own children irks me at times!
I'M TYPING YET AGAIN…
Shawn: I barely know my dad because I definitely NEVER got to know him. My mother's family doesn't learn sign language like I did in my early development school. I have always felt excluded from family holidays, such as Thanksgiving or Christmas. So much for dinner table syndrome problems! They never treated me like a regular kid. They wouldn't. When we tried to communicate in Pidgin Signed English, it NEVER seemed to end because we had so many misconceptions and misunderstandings. Being the black sheep in the whole family is something I despise throughout my childhood!
TYPING THROUGH MY FINGERS AS I ALLOW FEELINGS TO SPEAK FREELY.
Shawn: Sometimes I wish I were like my friends with deaf families, or I want my family to be deaf like me. Do you have brothers or sisters? Did your parents treat your siblings better when they treated you differently?
6:26 PM
Zak expressed his reasons to me for being ignored when he's around his family.
Zak: My parents can communicate with me in American Sign Language, but they aren't as skillful as I am, though. Sometimes I get misinformation, and sometimes the accurate information takes so damn long to come in. I always got left behind or left out of conversations while around them, like I wasn't there. That makes me so frustrated at times! My sister is also deaf, but we have very different personalities because we're so fuckin' different. So that's all I have to say at this point now.
6:33 PM
Shawn: My mother used ASL, although she's NOT as proficient as I am because she doesn't go to my school. What makes you think you're so different from your sister? Was she, like, completely delusional? Are you a year or two older or younger than she is?
6:36 PM
Zak: Ah, I see. Umm… It seems that I prided myself on being the extroverted rebel who enjoyed drinking a lot heavier, partying all night long, totally different from my sister and a lot younger than her. LOL!
6:48 PM
Shawn: Hmm… Interesting… This took my interest because… You remind me of a man named Jace Wayland from the Shadowhunters series, which I just finished three books early on. Jace Wayland had bad attitudes, just like the Spike character on the Buffy TV show in the late 1990s.
The notion of an imaginary character made me chuckle softly as I was typing and texting Zak on my laptop.
Shawn: I wish I could make Jace a real person! He would probably agree with you when you say you're an outgoing rebel. Unlike me, I'm a rebel sometimes, but not for the same reasons as you, like partying or participating in outdoorsy activities.
I was a bit overjoyed when I could digitally upload Jace Wayland's picture and show it to him now.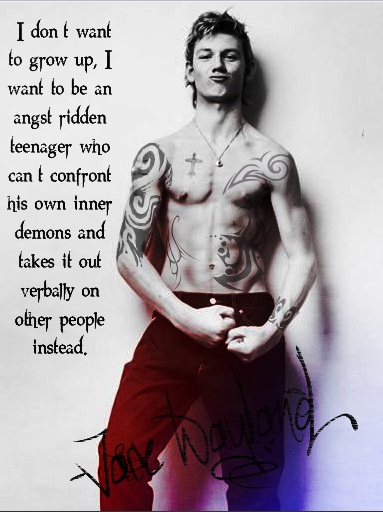 Where I found this: https://www.deviantart.com/iris-moss/art/Jace-Wayland-160218919
6:49 PM
Zak: Well, that picture you sent is pretty hilarious! LOL! What are you up to for the rest of the night?
6:51 PM
Shawn: I really wish I had never been born in the first place, you know. Look, I've been on probation for two years. I made a threat against my science teacher in high school. But I'd already graduated from that shitty school! LOL!
6:55 PM
Zak: Well, yeah. Being on probation is a pain in the ass…
6:58 PM
Shawn: Right, just like that.
With a sigh of disappointment, I shook my head. I wish he could see my face like that, but he's been texting me instead of video chat.
Shawn: Who cares anyway?
7:04 PM
Zak: Hmm… Yeah. Right.
Well, that's it… I never heard from him on Facebook again. Until I met him again this Fall Semester on the campus of RIT/NTID.
You should know that I first met Zak in July 2010 at the "Explore Your Future" summer camp, taking place at the same campus as we were in that camp.
The Summer Vestibule Program 2011 at NTID
After spending two weeks of SVP 2011 (transition to the community college) in Rochester, New York, I was more than pleased to meet Zak again. Sadly, it turned out to be a brief interaction with him. Like, "hello" or "wassup" or "good night." That was it. Leaning towards the end of August, I BARELY see him much around me. He's so distant from me with his new friends, with Mario, and with his girlfriend. So I was scared of rubbing him the wrong way or giving him a bad impression. It's one of the reasons why I have social skills problems and anxiety disorders. So I waited until finding the right time to talk to him.
THE EVE OF SEPTEMBER 7TH, 2011
Underground Tunnels under seven six or seven dormitories on my way from NTID to GRACIE'S dinner room seemed like an endless amount of time spent walking through the maze. I felt like it was forever and forever in the tunnels. This sometimes gives me the impression of Stephen King's movie, The Shining, where two little girls standing so far away from you at the end of the hall, which is pretty surreal. It's like that tunnel stretches so damn far away from me if you try to hurry to catch up but keep getting behind. This is what it feels like. Every day, I had to travel an incredibly great distance to eat at Gracie's restaurant.
This evening, I talked to Zak in the underground passageways. He puts an end to conservation between him and me in a way that I didn't like. The way he touched my shoulder was very confusing, insulting, and subliminal.
We were only a couple of distances away from the laundromat in the underground tunnels. I thought now was the perfect time to invite him out on a romantic date. It didn't go according to my plan, and it didn't work out because…
Zak: "No, not at all. I'm not part of the LGBTQ community. I appreciate you asking me out. Good luck finding your future husband. There are plenty of singles out here in the RIT!"
Shawn: "Wait a second! Not so fast!"
I was kind of speechless, and I couldn't adequately express my frustrating thoughts in ASL.
Shawn: "But… I thought you were queer, right? No?"
Zak scoffs at the thought of being queer and chuckles feebly. He shakes his head that implying he's NOT who I thought he was.
Zak: "Now I understand why you believe such a thing. Everyone assumes I'm gay because I have hands so limply, although I'm naturally seen as effeminate and emasculating. Everyone told me I wasn't manly enough. I have a feminine side, but I never let anyone define who I am. Sorry to disappoint you."
I was a bit puzzled by that statement.
Zak: "I already have a girlfriend. That blonde I hang out with, haven't you met her already? You may have seen her walk with me a few times, right?"
Shawn: "Yes, I've seen her around you, but I thought she was your high school classmate."
Zak: "She's still hangin' out with me. She always comes into my bedroom every now and then. We're for real, I'm telling you! Seriously!"
Shawn: "Are you still in the closet? So you faked being straight every time I run into you? Every time you see me, right?"
I just wondered that. Scratching my head skeptically. Something's not right with this guy. What is he's hiding?
He found me ridiculously funny because I look like a fucking idiot!
Zak: "I promise you, I'm not pretending at all! I'm not trying to cut you off. It's no secret I'm hetero. I imagine you haven't even thought about asking me before. You should have asked me like we did on Facebook recently in July, and I would have told you already."
Zak politely rejected the idea of dating me, but why did I feel like he was lying? I don't think he sees me as attractive just because I'm black and turtle-faced. I'm not sure I'm not his type, to be quite honest. I didn't even want to ask him because I knew what he would say. So I don't ask.
Zak started fondling my shoulder like I was his sick, dying dog who had to be put to death. He pitifully patted on my shoulder without saying words in ASL. Why does it feel like I'm being euthanized by animal doctors? I don't like the way he put his hand on my shoulder. It's like saying goodbye with a sad smile.
Zak walks backward a few steps. I wasn't really pleased with the way he left me here in the hall. That's when I saw him deflect his head off me and lift the hood off his back. I stood right there looking at him with a disgusted expression on my face. He is peacefully departing this hall for his next destination like a winner. After he left, I was still reeling from what he had said. It didn't get any weirder, did it?
IN THE SPAN OF SIX MONTHS AT RIT/NTID
Zak and I haven't talked together in the six months I spent on the RIT/NTID campus, and I didn't share any classes with him. I've NEVER been to a lecture course with him. Regardless of what he's doing every damn day, I'm fully conscious that Zak was a frequent visitor to NTID. Like me, where we always went to the same classroom every day in the same building. There are many different buildings on the campus!
Another reason I stopped liking Zak because I saw and caught him calling Dorian Wallace a "nigga" in American Sign Language. He was using the N-word on his nose to mock Dorian Wallace. I haven't seen precisely what Dorian was saying to him, but there's definitely something going on between them. Dorian joked about Michigan (Zak's home state) as stupid. But I remember Zak throwing shade at him with a sinister smile as if he wanted to kill him and taunt him.
Zak: "Nigga St Louis, ghetto."
I don't recall that specifically. I remember seeing him signing the N-word on his nose. First time I've ever seen him use "nigga" on his nose in front of me!
When Zak realized I caught him saying it, he apologized to me very quickly. He was pretty defensive of himself.
Zak: "Oh, I forgot that you were here. I had no idea you were the one looking at me like that. Don't take it personally; it's not meant to be offensive. It's not for you; it's for him."
For Dorian? To get insulted? Really? You think I ain't black enough? Is that because I'm using the white ASL?
Is it because I don't act like a real nigga? UH???
I actually didn't say that to him. I was speechless, that's all. I didn't call him out. I did NOTHING to stop him. I didn't even report on him.
10 years later, I regretted that I didn't report on him, but I should've done that already.
Hey Zak, IF You're READING THIS SHIT!
How come white people like you always say "no offense" before insulting someone in front of me? It doesn't matter if you're NOT trying to get on my nerves when you use the N-word on your fucking nose! I still won't put up with your racist joke! I don't give a fuck if you find it funny! I've long wondered if you were really racist when you rejected going out with me on a date. You didn't want to say it in front of me, but maybe, you called me "nigga" behind my back when I wasn't around. Right? You know, that's EXACTLY what I thought!
Upon my further realization, you're NOT only a racist but also a pedophile! Wow! It speaks volumes to your reputation and your damning white privilege. Wow! So I was wondering what your thoughts are on the pedophile jokes people came up with these days. Do you enjoy giving attention to your enemies, making horrible jokes about you after they figure out what you did illegally? So, if you don't like being laughed at or disparaged, you should've been LESS and LESS racist years ago! If you weren't racist, maybe you could've avoided being a pedophile as well. Maybe, maybe NOT!
Oh, wait a minute! I nearly forgot about telling you something! If the machine is real, or if I travel in time using astral projection. I would be very interested in going back in time to 2011. I would have approached you and…
Shawn: "Oh, you're trying to be cute with me while you're using the N-word. Really? Okay… Here comes your suffering and failure!"
I would've told you in front of Dorian Wallace. He would be laughing at you.
Shawn: "You'll be a pedophile by 2016. Wait. No offense, but you'll lose everything. Everything you were planning on doing at the university will be canceled. You're going to lose all your friends, your family, your teachers, and all those who matter to you. You will gain weight in your belly fat and look unattractive because you take medicine to keep your dick down and lame. You'll NEVER get it up again! This is just what's going to happen to you in 2016! If you don't believe me, wait until 2016 and check it out."
Zak: "You're joking, right? I don't believe that will happen. I would never do such a thing."
Shawn: "Well, you have to wait and see. I come to WARN you from the future. I was there. I saw your face on the news. Everyone will be talking crap about you."
I bet it would haunt your NAZI ASS for all eternity!
Missouri Is One of the Worst Education Systems In America
As I looked back on my second worst memory, I failed to do my homework duties regularly at the National Technical Institute for the Deaf due to flash device problems on November 11th, 2011. I grew up in Missouri's Worst Education System, which consistently fails me due to my skin color. As a 19-year-old college freshman enrolling in NTID for six months without any experience or knowledge. I wasn't sure how to ask the right questions and get the best advice from academic faculty staff. After completing my high school diploma, I didn't feel fully prepared or equipped for my educational goals. I mistakenly believed that I knew what I wanted to pursue in the community college. With tongue rolling in my cheek, I had no idea how wrong I was! Seriously!
What do my personal thoughts actually say about my academic experiences at the Missouri School for the Deaf (also shortened from the exact name of the school: MSD)? And, of course, my NON-DEAF and HEARING family. I was never raised or taught by a Deaf Black Family in American Sign Language. It's also because no one really wants to learn how to communicate with me. So, I was forced to read people's lips all of my life in my family, but when I went to the residential school, I had to stay with Deaf classmates in the dorm every two weeks. Every weekend in the middle of every month, I go home to visit my family. Then I came back to school weekly, even though a higher proportion of white deaf people had many deaf families and deaf parents than BIPOC deaf communities in Missouri.
I don't see black deaf Missourians having their own families with deaf kids, deaf brothers/sisters, deaf uncles/aunts, deaf cousins, or deaf grandparents. It's also unmistakably TRUE that some minorities and only a few of them have deaf relatives in their own family units. I don't see many of them in Missouri, but all of them that I've seen are Deaf White Families. I'm constantly baffled by this statistic and demographic information as to why.
But, at the same time, I realize there is absolutely NOTHING I can do about it. I don't care about that anymore. I learned to STOP complaining because they WILL always be that way, and someday I won't be here around forever on Earth. Why should I complain every now, then? Let us move on!
10 years later, on the Tik-Tok social media app, Nakia Smith is living proof of having a deaf brother, deaf parents, and deaf grandparents. Nakia Smith is NOT afraid of telling stories about her deaf grandparents in a racist system because they had to go to black schools that don't have similar structures of American Sign Language that white deaf people use to communicate. It's called BASL. So, when Deaf Black People and Other Races started mingling together and going to the same school with white Deaf people, they were aggressively forced to use the white version of ASL, especially in the Deaf community. I signed the specific ways and words in ASL that white deaf people DEMANDED me to use only for communication. To them, it's mandatory to make their ways of talking with hands, not ours.
Now you know the whole story! That's the total point of the racist system right here!
I guess I'd have to start my own Deaf family at some point in my adult life, perhaps in the future. My point is, when I graduated from Wheeler High School, I was pretty much excited to be able to do whatever the hell I wanted as a young adult.
I won't lie to you: there were a few things I was disappointed in myself that I didn't learn while I was in a Missourian residential school at the time. I met with teachers and dorm staff who did their best to teach me correctly when I refused to listen, cooperate, protest or disobey. I remember being highly thrilled to learn something new there. Yes, I learned something new every day. Sadly, at the same time, those racist teachers also limited and aggressively controlled how much I wanted to know, so I didn't get opportunities to do more.
I mean, I could've done so much more! They always had too little faith in me! They left me in the dark because they thought I would figure it out for myself.
So yes, they are part of this problem because of systemic racism. The racist system is NEVER my fault. Why is it my responsibility to accept the blame for not trying to learn more in this school? I can't always be accused of everything that has happened in this corrupt system! Look, I did my best! I know I did! That was all I ever did! Again, it's NOT the kids' fault because some of them don't know what's happening in the racist system or what the process due should look like. They don't have any control over that, and I have no control over this either. Neither does my whole family. Sometimes the racist government is the one to blame too. They have so much power to make a difference or make significant changes to the education system, but they choose NOT to do so. They prefer something else other than education. The racist government has been making countless excuses in my entire life. So, yes, I don't have the power to grab white men's balls in my hands and make them do something for my education. That's NOT how it's correctly done in legal processes, and of course not! I know you white people already know that! You know what I'm sayin'!
When I realized I knew black individuals who worked for the same government agency, I still blame the racist system in America. I still do! Thinking that they might have been Uncle Toms and Aunt Jemima women, as well as Tokenism material dolls. Or… Some knowledgeable and well-educated black people may also be scapegoating victims of systematic racism in their workplace.
So, what if racist government facilities hire you when you know you don't have any power to speak up against them? In that case, it's NOT always a bad idea to speak in a particular manner as if you were white. Having a "white voice" is not legally mandated or required. However, for black people to work, it's almost, almost same as a survival guide to THE LAW OF JUNGLE in White America.
It brought me back to the movie "Sorry to Bother You" with Tessa Thompson and LaKeith Stanfield. This film expresses racial concerns about the black employees who had to navigate their way while taking risks to promote high-position jobs and high-paid wages by using "white voices." They had to give up their self-known identities as to being black, start acting like they are white at work, even though they're still black in the presence of racists who have too much power! Otherwise, black people can't keep jobs if their hairstyles or behaviors have failed to follow the policies and rules of their job descriptions. They cannot be utterly faithful to themselves while their career is on the tightrope wire, which can be easily destroyed forever! They would've already fallen down if they didn't stay on the tightrope because it's too thin. There's NO MORE ROOM for their feet to walk on it. They'll drop NO MATTER WHAT!
THIS IS MY REALITY!
The racist system has always disappointed me regardless of what I do! NOT surprisingly, I failed miserably in the real-world problems after graduating from high school in May 2011. I taught myself to write, read, and relearn everything on my own! It was also one of my painful lessons and my ongoing journey to become fully self-reliant in my own right! During some of these trying times, my religious faith has been frequently collapsed and broken. So I gave up on returning to school after three different institutions: NTID (August 2011 to March 2012), University of Phoenix (June 2012 to November 2012), and Daymar College (March 2016 to May 2016). I forced myself to leave the three schools for blue-collar employment and manual labor. Blue-collar jobs do not require me to obtain licenses or skillful quality or proof of experienced history.
This is EXACTLY what I went through from 2011 to 2021 now.
During my stay at Wheeler High School, I was briefed by racist academic staff who reviewed my GPA for future registration in colleges and universities. They said I could only read vocabulary and terminology in the FOURTH-GRADE LEVEL since elementary school. Guess what?! I graduated on May 15th, 2011, with the Salutation Award! Who's got a fourth-grade reading level with the Salutation Award? Who does that?!
HUH? YOU GOT ME REALLY MESSED UP, MAN!
As a result, even though I was enrolled in a community college and two advanced universities, I still didn't go beyond my FOURTH-GRADE READING LEVEL between 2011 and 2021. Look what happened back there. Look where I stand on my feet now! Think about it now!
This subliminal message code of the racist educational system shows how much white people control the development of my critical thinking and learning skills. They also made final decisions after seeing my failures based on my intellectual quality, IQ, and literacy skills.
IT MAKES ME FEEL SICK! I'VE BEEN TAKEN ADVANTAGE OF!
Racist teachers and vice-principal didn't want to see black children succeed in their academic performance in specific areas of learning. So the racist government has to have fun, partying overnight, looking for excuses, and refusing to respond to parental demands in the minorities and BIPOC community. Think! They wanted me to fail for them to take all the credit for themselves instead!
THIS IS A WHITE PRIVILEGE AT ITS FINEST! White folks take granted for everything that they've been given!
Since some academic staff doesn't want to take their job so entirely seriously and that half of the students didn't take their studies seriously. I mean, it's much easier for adults to blame the half-witted kids in a politics of single-identity topics. That's why I was so disgusted and confused during my time in the educational system. I never fully understood that. I never knew the reason until I got older after graduating from high school. I learned so late!
There were random times when I wasn't always good at listening. Yet, my errors of action have now served as valuable lessons for me to do better in the future. I've come across academic teachers who are unwilling to openly discuss their educational experience struggles. They also don't want to admit that they don't feel like sharing personal details with students about their failures when they were our age. Maybe they were simply ashamed and embarrassed. Perhaps they secretly hate black kids or other racial minorities, or anyone in general. No matter what the reason, they shouldn't treat these kids like this. Periodt!
Well, that's something we need to talk about honestly and tell our future children the unpleasant reality about the United States' educational system, including racism. Whether the fact that we agree with it or disagree with it. I decided to be completely candid with myself under this published blog. I want everyone to be honest and consistent with each other, including teachers, students, and school principals. All of them are guilty! Even if it turns me into a culprit, so do you!
That is the APOLOGY I want to hear from the Missouri School for the Deaf, the City of Saint Louis, and the Government of Missouri in reparation!
In the case of black kids with families who never had the chance to enroll in community colleges or universities, there may have been obstacles and educational difficulties of gatekeeping in the early development facilities with too much power. As an adult, I know exactly what to say to those black kids about my educational experiences. So I don't have to keep all my feelings bottled up when nobody believes me, especially somebody with my background check!
I know you white folks don't care or believe me, and I won't waste my time on you! I'm so fuckin' done with you!
My Flash Drive Incident On Nov 11, 2011
That night my mental health relapsed.
MY THIRD TRAUMATIC INCIDENT was the night of November 11th, 2011. I accidentally erased all the data and digital information without knowing exactly what I was doing. I was not very good with computing devices and technological tools at the time. I didn't know how to deal with the equipment responsibly and appropriately. NOBODY taught me at the time. It was one of the painful lessons I learned. Everything I've already written has been digitally saved, stored, and linked with my USB flash drive. It was the most terrifying night of my life, and I'd never known that before. Why? It took so much time and effort to UPLOAD imaginary stories in Microsoft Word and PDF files. I've always uploaded all unpublished stories in Document Files on my flash drive. My stories have NEVER been published online at Amazon or publicly displayed in bookstores. I have NEVER had an openly prolific writing career.
I was a struggling writer because I had Writer's Block Syndrome in my head at that time. I lacked citations or resources, so no one has seen my works yet. That night, it stopped functioning for no apparent reason! It happened so unexpectedly fast without double-checking or observing the result of damage that could already be done to my most precious device. I was on the first level downstairs in the computer room of the Wallace Central Library, located on the left side of the building opposite the entrance. I couldn't believe it happened right in front of my face. I went into a total silence of BOMBSHELL SHOCK. My entire body was mortified and paralyzed for a long 5 minutes!
My mental health started RELAPSING after staring long at the computer screen in front of me.
10 years later, as I looked back in the past, that led me to realize that I had the slightest impression that I had been subjected to some kind of witchcraft spell due to my Flash Device Malfunctioning Incident. I knew I had the animosity and retaliation of my adversaries against me in Missouri. These people from Missouri don't want me to be publicly known as a rising star at such a young age. That's what I initially thought, and who knows where my dream job would end up at a specific place. No matter how many times I tried, I couldn't put my writing projects back online. I also couldn't get my flash device to function normally. I was in over my head, and I was so fuckin' angry. I even went to the Best Buy store, and I spent $400 fixing this shit, but there was nothing I could do about it.
I've been writing a lot of sci-fi since I was 12 years old. Yes, I began writing at 12 years old in 2004.
YES, YOU READ THAT DAMN RIGHT!
No sign of my life's work was ever found on the flash drive, and there isn't a single one of these attached files that I can locate that is missing in multiple losses!
I HOPE THE WORLD GETS TO HEAR MY ANGER NOW! ARGGHH!!
HOWLING FURIOUSLY TO THE SUMMIT OF MY LUNGS!
You know, those stories I've written, you realize what it means to me, don't you? These are my babies! I'm the fucking parent of all the stories I created and wrote for! My babies, I missed you so many countless times! I love my children so badly! I knew that the worst pain could not wait to come back to haunt me from time to time by realizing that I would never see my most precious children again.
You know, I can be very, very Gollum right now. As he put it, "My precious."
This situational incident with the flash drive resulted in my nervous breakdown on the same night of the year. You need to understand that my nineteen-year-old self was involved in the five stages of grief. I was grief-stricken inside. I was dying internally. The beating rhythms of the heart visually became a more giant hole in the middle of my chest. I've been through this all by myself!
You know, If I could go back in the time machine and spiritually inhabit the body of a 19-year-old, I would've conducted myself differently. I would have been more prepared for malfunctioning flash drives. Only if the idea of traveling in time is a real possibility, wouldn't it be excellent news, huh? I would kill for it! I would do anything to go back in time. Now you know why.
I was mentally combating against two sworn enemies of mine who had parasitically invaded my body for the first time, as I've given them two names: Despair and Delirium of Low Negative Energies. Please forgive me if I give them names because I'm a practicing pagan now. I believed I was dealing with archonic entities back then. They're vampire energies, you know. But anyways… The bottom line is…
That this was from the unsophisticated viewpoint of a 19-year-old at the time. However, Despair and Delirium are both evil psychological agents that are unnecessary seen by me. These remain invisible and unseen to my naked eyes. I know so entirely damn good that they do EXIST in my mind. I'm blatantly referring to mental health issues, of course! Despair and Delirium have already existed within me, and teaming up to harass me since this incident with the problems of the USB device.
As a religious person, I felt strongly that there was something beyond thin air into other dimensions, invisible realms, or spiritual planes of quantum physics. I mean, it's probably easy to put the blame on me or anyone else under this circumstance because nobody is incapable of seeing, feeling, or hearing. Most medical communities, like scientists or psychologists, look for evidence. Still, sometimes the evidence itself is not sufficiently convincing, no matter how real it seems. Most people refuse to believe that paranormal activities are confirmed. Instead, they simply accepted that mental illness is the only reliable source of information that has proof. I don't have all the answers to support the evidence because it's tough to make sense of unpopular topics. Some paranormal subjects, but not all, cannot be bothered with. So I decided NOT to talk about hex spells here.
The only thing available to people right now is their logical thoughts, faiths, or spiritual beliefs. And that's their personal business, not mine. Periodt! That's all there it is!
Ultimately, I was defeated and overtaken by the toxic ass energies of Despair and Delirium, which came from inside my conscious life energy in my heart that became a big fat hole as it excruciates me. I may feel emotionally the emptiness that exists within my chakras. The next day, I lost contact with reality, stopped completing my homework duties, and avoided thinking about my academic plans in all of the courses I attended during the Fall season of three semesters. Every day since November 11, 2011, I feel much more alone, and I have more self-loathing. I started regularly going to the computer lab room at the Nathaniel Rochester Hall, often located on the first floor of the dormitory. I always went there because it's my favorite safe place.
Computer Lab in Nathaniel Rochester Hall
AN OBJECT OF MY AFFECTION STORY
In Nathaniel Rochester Hall's computer lab, I newly gained a few deaf friends. At the same time, they had no idea what was wrong with me when they noticed how glum, I was throughout the loss of my writing projects on the flash drive. I didn't tell them why I was always moody. There's this man I inadvertently confided in and talked to him about my USB drive problems. It wasn't until September 2011 that I met him. When I left New York in March 2012, he gave me the feeling of being a fascinating man I met. I remembered feeling so melancholy and dealing with the grief in the middle of November 2011 as I approached him about my "flash drive" issues one week before the Thanksgiving vacation. I thought I could confide in him in private at some point and never tell him again. But I have no idea why I felt compelled to share anything with him as long as it lasts. I felt like I was a moth drawn to the fire, you know? I kept returning to him as an addictive drug, as I've been seeing him for the past four months (November, December, January, February, and March). We met many times in two places: Nathaniel Rochester Hall and The Wallace Center Library as my safe spaces where I could share my feelings with him.
David Cardona is an incredibly handsome Puerto Rican with a beautiful killer smile that made my heart go crazy. No, that's not why I found him attractive as the physical object of my longing. I first met him in September 2011 in that same room at Nathaniel Rochester Hall. We spoke a couple of times in the weeks before the bizarre USB flash drive incident in November 2011. I wasn't completely mesmerized by him when we first met. When I met David, I never really thought about him. I only thought of him as "Mr. University Tourist Guide," who showed me around RIT/NTID.
As a matter of fact, he's not really a tour guide because he never takes me on tour. David did explain a few things regarding RIT/NTID, but not at great length. He never told me everything, but you got a general idea of who he is, like scraping the surface for the first time when you met him. David has been just some random dude I met at the wrong time. He happened to be in the same room as I was at the computer lab. I mean, if it hadn't been for him, I'd have met another guy, you know?
I still remember interfering with David's homework duties because he sat next to me on the right side. I had a hard time finding the correct information on the Internet by reading the entertainment news about Russell Harvard's leading role in THE HAMMER (2011 film version). The RIT website says THE HAMMER will be openly available on DVD sale in January 2012, but it also told me that it'll be screened at the local cinemas in November 2011. Unfortunately, there was no mention of a specific date for theatrical release in November 2011. So I decided to get in touch with David for very temporary help while sitting next to me.
David eventually turned his head in my direction as his eyes innocently found me. I was kind of afraid to talk to him at first. He watched me writing down the crumbled piece of paper that I carried around all day with me. It was only in case if I had to talk to random strangers.
Well, in that paper, as I wrote to him, "I'm deaf. I need you to help me with this Internet thing. I don't think I've read that correctly."
I didn't even bother to use ASL, or Pidgin Signed English in front of him because I thought he would think of me as a weirdo. So, I thought writing was the only way to communicate with him.
David told me in sign language, "I'm deaf."
Shawn: "Oh, I had no idea you're deaf! I can't even tell who's deaf on campus or not, there are so damn many hearing people here! I didn't want to use ASL in front of hearing people."
David: "Actually, I'm hard-of-hearing, but I can speak a bit orally."
Shawn: "Ahh, I see. Anyway… According to what I read online, there's a slight problem that I found. There is no specific date for the November premiere of the film in this article. Do you see something I don't see?"
David moved toward me in his skating chair and leaned down to read where I was pointing."Yeah," he said after a few moments. "I noticed some errors in this online post."
Shawn: "Yeah?! See?"
David: "Lack of specific announcements for the movie release in November 2011, but it says the DVD sale of THE HAMMER in Walmart will be released in January 2012."
Shawn: "Right! I'm somewhat surprised that this publisher forgot to set the release date in November. It should've been there by now."
David: "Yeah, sometimes RIT publishers are a lame ass. They don't do an excellent job of putting the blog here. Occasionally, this happens. I've been here for 2 years. Now that I'm in my third year, I know what's going on."
Shawn: "Hm…" (slightly nodding)
I gave him a slight nod of listening and understanding because he briefly explained that part in the best way possible.
And here, the silence begins to spread between us while he stares at me oddly. I did not immediately have any further discussion for a few seconds of silence. It was because David's eyebrows were gathered in confusion as he strangely looked at me.
David: "Um… Don't you mind if I ask you a personal question?"
My heart got popped out of my throat and froze. I knew it! I knew what he would ask me! He's gonna ask me how dark my skin is? Or the way I use sign language that is different than everybody else in the deaf community? I admit I'm not very good at expressing ASL classifiers and syntactic cues, but still… I hated how deaf people think about me. They've always been so low-minded about me. They said I was "not deaf enough" or "not ASL enough" because I was never good enough to be part of the deaf community. These people don't like my hands. They don't like how I speak ASL. I knew that was the only reason why David is gonna ask me that.
Shawn: "Sure, shoot it."
David: "Uh… Are you gay?"
It was kinda weird for him to ask me about my sexual orientation. That's what most people ask me every day. I'm usually lying to someone I don't know, and I tell them no. I don't feel comfortable answering that question because others are starting to intimidate me because I am who I am.
That David, on the other hand… I want him to come up to me and ask me like that. I've always fantasized about being able to answer all of the dumb questions from attractively hot studs without making snappy judgments or worried about getting hurt. When he asked me that, I thought it was a scathing sexy move on me, but at the same time, I knew I had to stick up for myself when the situation demanded it.
Shawn: "Yea, yea, I am. Why?"
David: "Well, it's your body language that pops into my head. Your hands wiggle like a girl. You don't look masculine. You seem kind of feminine. Like an effeminate."
Shawn: "I'm very much aware of my physical appearance. I understand that I'm very different from other men who are more macho than me. I don't look like a guy to you. I'm kind of effeminate in every sense of the term."
David: "Don't be fooled by my question. I'm not gay, but that was the only question I ever asked. I've been observing you, that's all."
Shawn: "Deaf people are visually sensitive to even the smallest of details that might have easily gone unnoticed. Hearing people may have observed the same thing, but they don't necessarily bring up in the same manner that you do. To me, Deaf people are so brutally honest and unfiltered. I'm not sure why. Are Deaf people endowed with some kind of gaydar superpower that allows them to discern who is gay and not?"
David: "I don't know if this is the Deaf superpower or not. But, you know, I can't help but notice that you're different from the rest of the men."
Well, he was right that I'm different from the rest of the men. I thought he was adorably handsome when I first met him, but I didn't pursue him any further than that. No, not during the month of September 2011. In fact, it was a very thrilling experience for me to get to know him since it wasn't the way I had intended to fall in love with him. It wasn't meant to occur, but it did eventually.
I recalled having another series of dialogues with David on November 14, 2011. I told him that I'd been unhappy with my writing projects, which had been accidentally erased from my computer's flash drive at the time.
"Wow," David suddenly became empathic. He seems very attentive and listening to me. But at the same time, he looked a bit unmoving because his eyes were kinda droopy and tired. He's in his relaxing composure while his masculinity is putting on the show.
David: "I'm sorry that this occurred to you. I had no clue you were interested in writing stories."
After describing everything to him about my writing efforts, I told him how I'd been working so hard for so long, ever since I started writing at the age of twelve.
"Wow, this is very deep, dude!" exclaims David. "You're who you are as a writer. Only you know enough about yourself to be better than anyone else. You've decided what you're going to do with your stories that you wrote. You're very enthusiastic about telling your stories and working on your writing projects. Since your projects have been unexpectedly deleted from the flash drive, I can only imagine that it has put an end to your hopes and aspirations. It's like a driver needs a tank of gas to get on the road, otherwise the car, it wouldn't work at all."
Shawn: "That's exactly right! You seem to understand my situation better than all the people I've met in my entire life! No one in my family could see what I was going through with my projects over the years! Nobody in my school has the slightest clue what I'm talking about. Nobody! Why do I feel like you're the only one who acknowledged and validated my emotions? It's exactly answer I've been waiting to be told. Seriously!"
It SURPRISED me that he was such an attentive listener as I told him about the writing projects that I had completed and stored on my USB drive. I first noticed that he enjoyed listening to my bedtime stories, even though I gave him too much information. David has always had many questions for me, such as, "What happened to this character?" "How?" "Why?" He ended up being my whole audience! LOL! His inquiries begin to idolize me as if he was a diehard fan of my work that hasn't been prolific or publicly seen. David became the only real fan and audience I had on this planet, and I was grateful to him for that! I have a sneaky suspicion that he may be the greatest muse of my work! From that point on, every time I met David in Nathaniel Rochester Hall or the Wallace Center library, he gave me a great pep talk and encouraged me to do better. So, during the fall season of 2011 and early 2012, I went all the way over heels in love with David for four months.
Every time I talked with David, I could feel his presence of heat pressing down on me and David's incredible energy radiating from every inch of his body. His breathing existence, which was all around me, was such a joy to experience. David's sensual smiles allow me to expand my heart and see things from a new, more optimistic angle. As if he did set me on fire in the exaltation and euphoria, but positively, as opposed to the horror film version of The Wicker Man. His personality is what distinguishes him from the rest of the masculine wolf pack! I don't believe I'll be able to find anybody quite like him. I don't know if I can find anyone like him. I hoped he could be my love partner. He insisted that he was born straight and still straight as hell, which silently disappointed me. I was kinda expecting that he was more flexible around his sexuality at the time.
As David points out in sign language: "If Heath Ledger and Jake Gyllenhaal can pull it off, why shouldn't I have no issue making out with random dudes or playing gay in a Hollywood film? Straight actors are daring to interpret same-sex scenes in front of an audience. I couldn't imagine doing something like this if I was in the role of these Brokeback Mountain characters, but it made me understand that this is just a gay-for-pay situation. If Heath and Jake can make money off it, I'm going to do it for money!"
As Shawn says in sign language: "You appear to have the flexibility to play the roles you can afford as an actor. Straight actors are allowed to pretend to be gay, after all. Even if it's only for fun or if they don't have any emotional ties to particular situations that might make them uncomfortable, they won't be able to do it in real life. There are no requirements associated with this concept. It's the most challenging part of being bi-curious, at least I think so."
David: "It allows me to stay open-minded and better understand why some men are gay. I mean, I remember going to some drunken party one night in particular. Back then, I've been a bit bi-curious. I had a habit of sitting in a circle with other people my age. We spent our time playing such a ridiculous game. The wheel of the bottle was spinning round and round. Every time the bottle gets stopped and pointed directly at a guy, everyone dares him to locate a kiss, and he chooses me as his kisser. The first time I realized I was chosen, I said I didn't find men attractive and wasn't interested in them. All I do is kiss the chicks. Because everyone else in the game was always pushing me, I decided to have fun and enjoy myself. I told them okay, one kiss, and I meant it. That's all that should be done. I kissed him with my tongue and mouth. We kissed during the stupidest game. Everybody applauded us and made fun of us, and a couple of others were caught off guard. It's probably the gayest kiss I've ever felt in my life. I knew I was still part of that game."
Shawn: "Hmm… Interesting. Your kiss doesn't seem any different, right? I mean, does this guy behave in such a different way from the girls you love to kiss?"
David: "No, I don't see anything different between men and women. It's the same as kissing a woman. It's only a mouth that I kissed for nothing. One hole, that's right: one hole. I am far more interested in women because I wanted to be a father figure for her children as they grew up. I was planning on having a family. I've become obsessed with kids. Men cannot get pregnant because they are men themselves. I'm not even sure I can wrap my arms around their fat bellies, okay? I enjoy cuddling pregnant women."
Shawn (chuckles): "It's natural for gays to secretly fantasize about you getting them pregnant and having kids around, right?"
David: "Dude, you crack me up! Please, this will never happen. My closest friend once told me how he felt about me, and I politely refused to be his boyfriend or future husband. I haven't treated him any differently than any other straight man in the Bronx, New York. I explained to him that I respect his identity, but there were already all the personal boundaries that I created for him. As long as we hang out socially and regularly, I limited him to do what he is allowed to do and not allowed to do. It means a lot to me because all we can do is be friends. I don't want him ruining everything for me. As you can tell, we're still good friends. I told him he'd be better off with someone he could rely on. He was not the only one. I was frequently approached by other gay and bisexual men, and I had to politely reject from time to time. Sorry, gays, I prefer pussies! I know I'm hot, but that's never gonna happen."
Shawn: "You know, David, I was a freshman at the Missouri School for the Deaf when the whole mess happened. That was March 2008. Before the fourth-year guy got his high school diploma, I had a crush on him. Whatever happened between us hasn't been pleasant to me. It's been a terrible year. He didn't want me around him. I guess I pressured him. I gave him my feelings inappropriately. I wasn't sure how to express myself to him. How I treated him was wrong. After this incident on the first floor of Wheeler High School on Friday afternoon, there was also a fight on the bus to get home in Saint Louis, Missouri. The following week, we returned to school after a long period of silence during which we never spoke. Then our friendship was over. We didn't even get a look at each other for three months. After seeing him graduate from high school, we have weakly rekindled our friendship, but it is different from before. He's had a different attitude towards me lately. Our discussions were reduced to almost nothing. I did miss a bit of what we had back."
David: "Well, he's not treating you right. If I were him, I would never do this to you. As a champion, I would've handled the situation admirably. I can outdo him. I'm more relaxed with you than him around you."
David and I were on the second floor of the Wallace Center of the Library when I had another remarkable encounter with him, which I remembered as we were there. I felt a bit awkward when I sat next to him in the same room with him, watching a 2006 version of ANOTHER GAY MOVIE on YouTube. I remember him sitting right behind me, and that was a pleasant surprise. We were literally within inches of one another. We were sitting with our backs to each other, looking at computer monitors with our eyes.
David: "Hey, what's up?"
When David walked in on me, I knew I had to hide the browser tab from him. I couldn't let him know what I was looking at. He might have thought I was watching gay porn online. LOL!
Shawn: "I'm now watching the funniest gay film I've ever seen. No, I don't think you'll enjoy it. It's a bit too much bonkers, corny and cheesy, if you ask me. It's almost like you're not meant to see it because you're in the wrong place at the wrong time."
David: "What?" He seems a bit lost.
In self-doubt, I shook my head, and as soon as he took a look at the browser tab on the internet, I hid it quickly. David was able to understand what was going on, well, not at first. I offered him the strangest smile that wasn't really a smile in the traditional sense. This is more like a YIKES smile than anything else. It was just one look on my face that said something he didn't get at all. I also have NO idea why I told him in the first place, much alone what I was thinking. But I can't stop myself from inadvertently giving him this unnecessary knowledge, even though I should've kept my lips closed! I guess I was a little under the gun-hijacking or coercion through my head to say anything!
David: "Ah, well, let me have a look. I'm a bit somewhat curious in seeing it!"
Shawn: "Don't hate me if you check this out."
David didn't heed my warning and continued to sit next to me, sometimes too close to my body. I felt that he was stuck straight into me and that we were possibly melting together. The feelings of David's presence, his virility, and physicality were absorbed into my flesh by him alone. He's physically firm and athletic. It's a pleasure to have him at my side. Although he smelled charming and natural in his own way, I was aware that he wasn't constantly dripping with perspiration from gym workouts or sports. Maybe, that's how Bronx Latino guys smell that way. I don't know. He's got a sultry scent about him on random occasions. At the same time, I'm also aware that he did apply cologne to his skin. He even apologized to me if I had noticed the rotting stench on him. How considerate of him! Still, it only happened once and would never happen again in our interactions. My point is that he's very irresistible, attractive, dreamy, and seductive when he's this fucking close to me! Seriously!
I was ready to burst out laughing as he pressed the Play button on the wired mouse in his hand to begin streaming the video. I watched him watch that shitty video! When David had just finished seeing a few minutes from "Another Gay Movie" on YouTube and didn't feel the need to watch more than 5 or 10 minutes, so he turned to face me and expressed his thoughts: "Ugh. Um. Yes, I do understand the point you're making. This is far too bright, colorful, and campy-look. I was under the impression that this was written from the point of view of an effeminate sissy man, rather than from the point of view of a macho gay man. Brokeback Mountain was my favorite movie because it's really masculine atmosphere. My reaction to this video I just watched a few minutes ago was very different from what I saw on Brokeback Mountain. If you want to enjoy watching this one, don't be afraid to do so."
David respectfully walked away from me and went back to his computer behind me, leaving me alone to look at the same video of my own free will. We didn't talk again for several hours later. Then he went to do whatever he did on his own. We went to our separate ways after Wallace Library.
I recalled traveling back to my hometown in Missouri during the Christmas break. I stayed at my childhood house for three weeks before returning to Rochester, New York, in January 2012. Jocelyn Wilkes, my closest friend, and a deaf black woman, were among the few people to acknowledge and accept who I was at that time. She died on March 25th, 2015, as the result of sickle cell anemia. I missed that girl so much!
Jocelyn Wilkes: "What's it like to be an undergraduate in New York? How you doing over there?! Tell me now!"
I really wanted to tell Jocelyn everything, but I couldn't bring myself to do so. I knew she wouldn't be too quite pleased to hear about my poor academic performance in New York as a result of the messy incident with the flash drive, which completely ruined my writing ambitions. I falsely assured Jocelyn Wilkes that I was doing well in New York, but I knew I was lying to her face.
Jocelyn: "Did you meet a cool guy while at RIT/NTID?"
As her questions begin to become more invasive, prying and pressing on.
Shawn: "Not exactly, to tell you the truth. I met him and he insisted on maintaining his heterosexual identity. We were just friends in a recent timing of this year, and there wasn't anything serious between us. It was simply a matter of getting to know each other."
Jocelyn: "Tell me everything you know about him!"
She smiled and got carried away after I told her.
Jocelyn: "I think I'll check him out myself on Facebook. My taste for men is for the good-looking guys."
Shawn: "I have had a crush on Zachary Seguin since July 2010, but he has told me over and over again that he is straight! Zachary declined my request in some supposedly polite way. As a result, I met David Cardona at the computer lab. David, he's still straight as he says. And right now, nothing is going on between us. Look, I haven't gotten laid yet, and I'm still a virgin. I despise every time I meet somebody attractive that they constantly tell me that they've always been straight. Why is it that I am only attracted to straight men? How come?"
After a few days on holiday in December 2011… Jocelyn and I spoke in American Sign Language (ASL) at Mokabe's Coffeehouse.
Jocelyn: "You must be really liking him, don't you?"
Shawn: "We are no more than friends, really. That's the best we can do. We've only just met. Up until now, nothing has happened between us. Don't start with me, honey. Don't even try and find the wrong ideas."
Jocelyn: "Well, I can tell it by the look on your face. You got the hots for this guy! Look at you, you're glowing! Blushing!"
Shawn: "No, absolutely not! I just want to find out more about him. That's it!"
I couldn't resist the grins and chuckles. That's like tickling my armpits!
Jocelyn: "Yes, of course! You're getting a little self-conscious and hot! Look at your face! You're still smiling, man! You're very fond of him!"
Shawn: "God, don't do that! Clearly, you're roasting me with bad jokes! I have no control over my face! No, no, I can't!"
Jocelyn: "Holy shit, I knew it! I knew you were into him! Yes, you do! I've had the intuitive feeling that you two will be boyfriends in no time! You're not going to admit it to me, but I knew you liked him."
I explode loudly with laughter.
We made each other look giddy, laughing at each other like hyped schoolgirls. I had the strangest feeling about Jocelyn being my sister, who was always there for me. The only problem is that I have no idea how to braid her hair in a way that makes us seem like sisters while covertly talking about whoever I thought was so damn handsome, sexy, or hot. I didn't do her hair like sisters would, but now you see why I laughed and smiled cynically with her. When Jocelyn told me that my glowing dimple smiles were proof that I really liked David, I immediately agreed with her. I hadn't realized I was in love with David at that time of Christmas break. It's something that I didn't really consider until later in February 2012. Later on, my feelings for David started increasingly getting real and came on to him so strongly.
I came back to Rochester, NY, in January 2012. David has already been there and said hello once again. I ran into him in the shop just below the dormitory, as I saw him again. He had a nice trimmed hairdo. He started living in the dormitory as opposed to the apartment.
Shawn: "Ohhh! I didn't know you changed your hair. Check out that haircut!"
David: "Thank you, Shawn. Have you spent your Christmas holidays with your relatives and friends? Did you enjoy yourself? You got good food? Did you bring new toys?"
Shawn: "Fine, good. You?"
It's a shame I haven't mentioned Jocelyn to him before.
David: "Spent my time with friends and family. It was fantastic."
To be completely honest, I don't even remember what we're talking about when we're talking about our Christmas break. Following David's arrival in January 2012, I realized his presence was in the back of my mind for the first time. It was a bit surrealistic, and suddenly the adrenaline rushed at the same time.
After a recent visit to my native city of Missouri, I was struck by the vivid memory of Jocelyn Wilkes. I was sure if she'd been with me in New York, she would have laughed at me so hard. Jocelyn could have been watching backstage by aggressively pulling the strings of my heart as if she was my puppeteer. I initially had a bizarre fantasy about the uncontrollable laughs of Jocelyn while standing behind David in the outdoor areas.
I thought she'd say, "I told you so! I told you this was going to happen! You're madly in love with him!"
It's almost impossible to ignore these nonexistent images of Jocelyn in my mind as long as she loudly exclaims at me in multiple numbers of laughs every minute. I felt like I was hallucinating a project of her right behind David, but she wasn't there. I knew she wasn't there.
I kept seeing her say it to me in my head. I knew that the idea of Jocelyn making intimate jokes would make me laugh so hard, and I prepared myself for it. It's hard NOT to smile at David after our seventh meeting in January 2012. I can't control the dimples because I smile too much. David saw that I was laughing like a fool without any apparent reason and returned his smiles to me. I received a wave of greetings from him as I was waving at him quickly, and we were just leaving. We re-entered our dormitories in opposite directions. You certainly don't say "See you later" on American Sign Language that way, but it was so dorky and cute! It made me laugh inside, but at the same time, it was such an embarrassment!
You can't put a price on the way he looks at me with his smile! My heart accelerates the speed at which it beats so fast and loud for him, amplifying my beats. David had me completely under his spell as if he was a snake charmer that made me look into his eyes. Some sort of witchcraft, or something like that, has to be behind this. I've never had a handsome guy smiling at me like that before, and it was a pleasant surprise and changes in my well-being and emotions.
The way he smiles at me is priceless! It amplifies the beating rhythms of my heart for him at an incredible speed. I went under his spell as David captured my eyes like a snake charmer. He must be a witch or something. For the first time, I've never had a dude smiling at me like that. I remember leaving the Wallace Library late at night, watching him walk with his friends over the weekend. He asked me if I wanted to join him at the party.
David: "Let's get drunk and smoke some marijuana. As you go out and enjoy yourself tonight, you never know when you can meet someone interesting. Believe me when I say I will take care of you, and I promise you will have a wonderful time at the alcohol party tonight."
He seemed to be gleaming his teeth at me like I was a celebrity even though he had a killer smile plastering his gorgeous face. He's always grinning, lopsided-smiling, and pursing his lips in so many million ways. I didn't know how to deal with that kind of smile because he's so fuckin' contagious and so fuckin' hard to resist. It's difficult to stay objective in the face of David's overwhelming charisma personality. His enthusiasm and optimism are so fuckin' infectious, and I came dangerously near-drowning while in his company. I got the feeling that I was ready to pass out when he did that every time.
Shawn: "No, thank you very much."
I express my gratitude.
Shawn: "In fact, as a consequence of this, I'm feeling weary and sleepy. I'd like to be able to sleep in my own bed. Believe me when I say that you don't want me to be present. I'm the one that keeps everyone from enjoying themselves. I'm utterly a party pooper when it comes to mingling with others. When it comes to socializing, I'm not much of a Socializer. Trust me when I say you don't want me to go there, and you regret having me there."
After David replied, "okay," I turned my back on him, and he left me alone with a polite nod. He didn't make me feel pressured to do anything I didn't want to do. On weekends, you relax and mind your own business. At the exact moment I moved away from him, my lips turned into a blushing smile in secret. At midnight, it was a short but pleasant encounter with him. I felt like I was ridiculous for believing I was the real girl inside. For the first time in my life, I have come to terms that I am a trans woman. Every time I flushed at the idea of David, I didn't view myself as a man in the traditional sense.
I felt that I was a very feminine version of myself. It's almost as if David is waking me from a deep sleep after a long period. I've questioned myself on many occasions, "Am I truly a transgender person?" My sense of comfort and confidence in my own skin, as it gets increased anytime, I was with David, and I didn't feel like I was poorly scrutinized by him. It's as though he recognizes me for who I am and respects me for it. If he believes I can be true to myself, why should I feel guilty if the idea of being a woman makes me feel good? When I'm in a library or a computer lab with him, I feel like I could've been his trans girlfriend. I would very much like to be an honest, full woman sometimes! But, as you can see, I rejected this idea and threw it off my mind. I kept telling myself that I was making up fairy tales about myself that were false and untruthful. I mean, I don't want to think about it. I gave up the fantasy of becoming the woman I deserved to be the real one I was. I was under the impression this was too good to be true. While imagination is pleasurable as it lasts, it cannot be confirmed in the long run. Not by a long shot.
David Cardona might have passed for a Topher DiMaggio doppelganger (in the art form of nudity) or Charlie Barnett, to name a few of the possibilities. He briefly informed me that he had been a poser/model for a short time but had chosen not to pursue it as a career. He had taken several nude shots in the past, but he had never retaken them. When I saw 'em on his Facebook page, I didn't think I was going crazy. I must confess that I found something fascinating about him, but that's not why I liked him.
Maybe you know King David from the Bible, but I don't know if you do. When King Saul had difficulty coping with his anger and resentment, David accompanied him with the taste of music. Due to what happened following Saul's disobedience, God no longer wants him to be the king of the Jewish people. So, therefore, King Saul had become very envious of David after hearing people sing a loud chant of songs celebrating David's victory over the Giants. To keep the demonic energy at bay from him, David creates a lovely sound of the harp he was playing for Saul, one of my favorite parts of the biblical story. That was exactly what my experience with David was all along with my clinical depression. Every time I spoke with David, I felt as if I were King Saul while he played the harp due to what happened to my literary projects, which were permanently erased and malfunctioned from my USB drive by an error. It was a kind act on his part to make me feel better, but he didn't have to. He has never owed me anything in his life. It wasn't his intentions or free will in the first place. Still, he was emotionally accessible when I needed him, and his piercing eyes and killer grins contributed to my improving self-esteem. I felt that he was freely responsive to my frustration with the losses of writing projects on a USB drive, was actively listening to what I told him, was able to comprehend me, was acting sympathetic with me, and was appreciative of my craft storytelling. He always speaks with ease and fraternity, and the list of qualities he carries on and on. How much more can I tell you about him? I'm sorry if I came off as excessively attached and obsessed with him, but I couldn't help myself. I've already told David that my unpublished stories were saved on the flash drive before they were totally deleted from it. I took a great deal of time and energy to write everything down, and I intended to publish them online. Still, nobody had the opportunity to see my stories! It was too bad I couldn't be more prolific or made known to the world. I was just trying to feel heard and seen, you know?
IN THE MONTH OF FEBRUARY 2012
I recall telling David Cardona about these women I could've dated in high school only if I hadn't been more effeminate and sissy. I even mentioned the names of Jessica Bax, Chetra Watkins, Kylie Brooks, and Paige Parnell, but I failed to be their boyfriend because that's not how they see me. I'm not boyfriend material. I wasn't a very good friend to those girls I met in high school. I was a piece of shit to them. So I decided to show David that these girls on Facebook are the ones I thought were physically attractive and mentally functioned as a sharp knife. He agreed with me that they're beautiful, pretty, and cute. He said he would go out with them on a random date if he went to my school.
The conversation went on like this until we changed the topic once again. At that point, David brought up the name of his closest buddy in a tragic car accident. I didn't realize that one of his closest buddies was from my hometown, where I grew up! Wow! What a small world! Andrew Vetor! Andrew is in the worst physical damage due to the long trip and highway crash while sleeping independently in 2008. Yes, that incident happened in 2008.
Andrew drove his truck alone with no one to help him. I suddenly remembered the name of Andrew Vetor because I knew his brother, David Vetor! David Cardona, the best friend of Andrew that mentioned him for the first time in the Wallace Library. I had no idea Andrew was David's best friend all these years! I had no idea that David Cardona was visiting him in Saint Louis, Missouri, at the hospital. At the same time, I stayed abroad at the Missouri Deaf School! I had no way of knowing at that time! I had no absolute idea!
I also admitted my guilt and shame to David that Andrew and I aren't really friends. At least I was honest with him. I let him know that Andrew and I used to be enemies and opponents. I didn't enjoy my toxic interactions with Andrew at the Teen Institute summer camp because he was so much a bully to me at that time. He used to be my camp staff and residential advisor for one week in that summer camp at the hut, where I was with other boys my age. He was so nasty, so arrogant, and ignorant to me. He really humiliated me in every way possible. I never forgot that!
But now… In the wake of what happened with Andrew in a car accident. Everything changes so sudden and so unexpected… I can't hate Andrew anymore because I'm not sure how to be cruel to him. I thought I might feel better that he couldn't hurt me anymore, but I didn't feel better overnight. I only felt terrible for him, though. I have no idea how to react and act with him, but I wanted to treat him better than he did with me. Yes, that tragic accident did a lot of damage to him, and it changed him drastically. I don't know whether it's for the best or not… Now, Andrew is suffering from physical damages, cerebral palsy, and other health problems that are permanently caused by a car crash on the highway while driving alone at a very late night.
I heard and was frequently told that Andrew was fatigued, drowsy, and sleepy on his long drive. It was so hazardous for him to be on his own late night or early morning in the darkness. He could've had someone drive his car instead of doing it himself. After falling asleep, he found himself in a coma the next day and woke up only weeks later. He became a very different person that no one previously recognized. This is not the oldest version of Andrew Vetor that I used to know and remember as a bully. The person I looked at is not the same bully I interacted with before. He wasn't in a threatening manner when I met him again. He's not like that anymore. I felt so weird looking at Andrew now.
David: "I tried to be more patient with him even though I was losing my head because of what happened to him in a car accident. I used to listen to Andrew's favorite word, the same word that he won't stop saying, over and over again. He's got nothing else to say so far. He had already been mentally damaged. It's heartbreaking to see him in that condition. After visiting him at the hospital and at his house, I stopped seeing him. I knew he could never go back to his old self. Not ever again, nope. There was nothing I could do about it."
I could see David's wet tears slowly dripping on his cheeks. He was sobbing right in front of me, and I couldn't stop him from being emotionally charged! His beautiful eyes made me want to grieve, too! I was really thinking about giving him an enormous hug in my arms and lending him a shoulder to cry on when he confessed his feelings for Andrew. I thought about kissing David's cheeks, and probably his lips, too? It would lead one kiss to another level, you know? I might have taken advantage of David, even though he's very vulnerable. I could've kissed him right now! But I restrained myself from going any farther because I didn't want David to think that this was my plan to take advantage of him while he was in this emotional state. It wasn't right for me to treat him like that. I love when he gets so adorably sensitive to any mention of Andrew Vetor, and I want to make sure that David is taken care of immediately. Singing him a lullaby in sign language is an example, or doing whatever I can to help him feel better is something I really want to do for him.
As a matter of fact, I should have taken advantage of him when the opportunity came up! I knew it would work out well for me! I waited for my signals until it was perfect timing to jump on him and kiss him right there on the spot! I was so fuckin' excited! I hoped this would convince him to kiss me back and admit that he also had feelings for me! But I knew I was wrong to take advantage of him. All I wanted to hear was for him to tell me, and this is all I wanted to hear from him! I know I shouldn't have thought this through, but I was so desperate to have David Cardona in my life. So I'm not going to do that to David, and he didn't deserve it either. If I had already done so, I was afraid of his negative response. I was convinced he would probably PUNCH me in the face and never talk to me again. He would DESPISE me for the rest of his life!
On the way to our dormitories after the library closed at 3 AM, David Cardona had agreed to walk with me because he was so fuckin' sweet. Shortly after we left the Wallace Center of Library and were on our way back to the dorms, he noticed that I was acting strangely around him as we walked together in the cold air. I didn't know what to tell him immediately. As a result, I decided to come clean about myself and tell David how I deeply felt for him. I fell in love with him. I've had some challenging moments of sharing my true colors with him.
Shawn: "Now it's just you and me. There's nobody in here. It's just the two of us. I have something to tell you."
David stopped walking and became a bit perplexed until I got ready to let him know. I believe I scared the shit outta him! When I stopped walking, my mind kept reflecting on what Jocelyn said to me during the Christmas break in December 2011. She insisted on convincing me to believe that I liked him. That made me realize Joy was right about how I felt for David. She knew that before I could tell. How the hell did she know?!
Shawn: "I kind of like you. You've been really sweet to me. I don't think I deserve you as my dearest friend, but you were emotionally available to me every day. I was wondering whether or not that you could be my Mr. Right. I think you are the one. Soulmate."
David: "Huh? What the hell you talking about?"
Still confused as hell.
Shawn: "Can I give you a kiss? Please. It's all I've been thinking about right now. Will you let me kiss you? I am madly in love with you."
David raises his hands in the air and right in front of my face as fast as he can! He prevents me from continuing to openly share my romantic feelings in American Sign Language. In fact, his hands were nearly blocking my face at one point. That's because David Cardona doesn't want me to kiss him! He uses his hands to protect himself and avoid any attempt I might have on him.
But I never kissed him. Nope, never happens. Not by a long shot! I haven't even made one movement, not one muscle. I only asked his permission, and that's it! It was as simple as saying yes or no. I knew he was gonna hit me in the face if I didn't ask his permission. That's why I was forced to ask. I knew that some people took risks. Sometimes it worked out well for some people who are already successful and others not so lucky. I envied someone who did it without getting consent and without getting scolded for it at the SAME TIME! How did they manage to kiss people without getting slapped or hit in their faces? How?! I mean, who would do that in real life? To whom?! I've never seen people do it in real life, but only in romantic movies and TV shows! I want the same kiss I deserve as a fucking movie! I knew I wasn't one of those who got lucky. I never got my chance!
I "ugly-cry" my eyes so FUCKIN' hard while typing in this blog POST. NOT KIDDING!
David: "No! No, no, NO!"
My lungs, throat, mouth, and nose expelled a frustratingly frigid air in a lengthy respiratory failure! My hopeless heart was so miserably misplaced in David Cardona because of my affection and caring for him! I was hoping it would eventually happen at that turning point in my 19-year-old self. Yet, I didn't push myself on him since he is so powerfully athletic and possibly dangerous in the physical sense. I knew he'd given me a good whipping of his fistfights if I deliberately ignored his rejections. So I decided NOT to make such a big fuss. Just let this shit go. I gotta let it go! David realized that I was somewhat disappointed with my wet fantasies that would never become a reality. So he even urged and encouraged me to do better instead of waiting for a prince charming to come and rescue me as a damsel-in-distress cliche/stereotype of Cinderella that I grew up listening to. I tried to put my shit back together as much as I could. My inner demons wrestle me right here in front of David Cardona!
David: "Is there someone in RIT/NTID here whom you found attractive? I couldn't be the only one who you find the sexiest man alive, could I? If you'll accept my apologies, I'm purely a pussy lover. I ain't gonna change my sexual identity for you. I can't do that."
Shawn: "There are no people here that I really like! Nobody, not one of 'em!"
David: "Are you for real? Are you sure nobody you like? The number of good-looking men in this place is astounding! We have over 30,000 students enrolled in this school. Some are openly gay, while others are deeply closeted and are not yet ready to come out. Some have not discussed their sexual orientation with their families or peers since high school. You'd better keep looking for one, and I'm sure you'll find him."
Shawn: "I'm not sure I can meet anyone any better than you. You're everything I'm looking for! In my opinion, you are just perfect. It's like you fell for someone at first sight. In no way, shape, or form will I ever compare anybody else to you!"
David: "Believe me when I say there is always someone better than me. Are you 100% sure there are no deaf men in NTID you would still want to date, fuck, or kiss? Give us a few more months while you get through school here. I know you've only been here a few months on such short notice. Give it a bit of time, please."
Shawn: "I've been trying to get out, trying to get laid, trying to get a first kiss. There's this guy long before I met you. That man's name is Zachary Seguin. He's the one I've had a crush on since 2010. Me and him are about the same age. I'm only 3 months older than him, which is a bit different. He's Scorpio and I'm Leo."
David (chuckles): "Oh, yes! I know who Zack is! Zack and I went to the same class back then. I can tell he's kind of gay. I think you two would make an interesting interracial couple."
Shawn: "No, you're still missing the point! Zach has amicably rejected me four weeks ago in the underground tunnels below these dormitories. That was before I saw you in the computer lab at Nathaniel Rochester Hall."
David: "What?! You're kiddin' me, right? He's totally gay! I'm telling you, he's got to be! I think he's hiding his sexual orientation in the closet. I'm not sure Zack's ready to come out, not yet. I mean, the way he moves his arms and hands while using sign language makes him seem to be effeminate, sissy, and gay to me. If I knew I was straight, I wouldn't be acting so effeminately. He's way too flamboyant, colorful, and flashy!"
Shawn: "Of course I know what you're referring to. That's one of the reasons I found him attractive. True Blood on HBO is one of our favorite television shows, and we spoke about it. We haven't had a lot of discussions on Facebook or in person, over the past couple of months. During a brief encounter in the underground tunnels on that Halloween night, just a few yards from the laundry, he flirted with me. The gorilla mask he was wearing covered him up. He pretended to have sex with the left side of my waistline during his filth dancing, just as I was about to walk away from him. He was only fooling around with me because he was bored. I was like, 'who the fuck are you?' I was totally unaware that it was him. I finally got the mask off and found out it was Zack! So glad that it was him!"
David: "Well, I think you might want to give him another chance. Perhaps he's going to slowly open up to you."
Shawn: "He already said no to me and he didn't want me. But it's NOT the most painful aspect of rejection. What he did to me was essentially a pat on the shoulder, as if to pity me, which I took as a false compliment. I don't like it when people started patting me on the shoulder like I was a sick dog while they were euthanizing me. Come on, you're better than Zack! You have a marvelous listening capability. You have understood almost everything that I have told you. You're the only one I've ever shared my most personal secrets with. I didn't share much information with Zack."
David: "Ah, no wonder, and now this makes sense. I had no idea I was the only man who knew your personal information in this school, which you had offered so freely, was completely clueless to me. I mean, I'm flattered, but at the same time, I never even saw it coming. I didn't expect this."
Shawn: "Now you know why I thought of you that way, but at the same time, but I didn't want to make you feel uncomfortable by telling you exactly like that. Please accept my apologies for the request to kiss me."
David: "No, that doesn't bother me. No, you didn't put me at a disadvantage. In other words, I have a hard time understanding this. I didn't know your intimate feelings were intended for me that bad."
Shawn: "Ah! Wait! I have an idea! There's no need for you to be my boyfriend or anything like that, but I remember you telling me in November that you were open-minded and bi-curious, and I thought that was really cool. You said you only would do it for the movie. Let's say we're Hollywood Stars, and we kiss together just exactly like Heath and Jake did in Brokeback Mountain. What do you say, huh? Could you teach me about kissing? I'm not much of a kisser. Can you do it for me, please? Please! I beg you until I die!"
David exploded laughing really loud, and I could feel the vibrations of laughter throughout his body. He was pretty intuitive that my idea of kissing him is an indirect butt-of-joke.
David (smiling awkwardly): "I appreciate your efforts, but I'm not like that. I knew where you're going with this idea. You are not going to try to persuade me, then manipulate me into kissing you. No, no. That's how you plan it!"
Shawn: "Teach me, then! I'm so desperately dying of starvation to learn the mysteries of kissing! How am I supposed to kiss correctly? Tell me something I haven't figured out yet! Anything! Please!"
David began to walk again, this time more slowly as if looking at his options. He wasn't looking at me at the moment. He was looking at the pavement underneath his shoes. We recently walked past the student center building, the gym building, and the social service building, several yards and blocks away from the Gracie cafeteria and a couple of dormitories.
Then he sullenly looked at me after he was done with his personal thoughts.
David (makes a joke intentionally): "You're more than welcome to start with an apple if you'd like. Apple."
That's all he came up with. Seriously! My face gave him an unsatisfied facial expression of the WTF and why-are-you-torturing-me-like-this, you know? I gave him an impassioned look of disapproval, knowing that he had toyed with the strings of my heart to make me feel so foolish, but at the same time, I didn't know how to get mad at him. He was physically chortling and snickering right in my face. I guess he enjoyed torturing me because I didn't get the kiss I deserved.
David: "I ain't gonna bullshit you! I'm serious! You gotta start somewhere! Look, I know what you're thinkin'! Apple can take a lot of hard work, hours, days, and many years of self-training, to be a very good kisser. You might want to give it a shot."
He tried so hard to convince me that I almost wanted to believe him. The problem is that I'm looking at his sense-of-humor smiles that utterly contradict his intentions and meanings. He could also be a perfectly manipulative liar, even if he was a top-notch kisser! He could've been a trickster god like Loki in Norse Mythology! That's why I was so concernedly skeptical of his mockery-style suggestions and advice. I knew David could play me for a fool, so he could pride himself on bragging to his peers and friends behind my back, you know? No, thank you very much! I don't want to be publicly humiliated in front of his friends and be secretly laughed at! The thought of an apple doesn't appeal to me at all. That is why I NEVER went through my own private experiments of kissing. NOT worth the trouble.
David came up with another idea while making out with the palm of his hand. He wasn't really using his mouth on his hand, but he did a visual demonstration for my eyes to see. He was sampling in front of me, but he never put his teeth or tongue into his own hand. Well, to be reasonably honest, his mouth is quite close and around the edges of the curve of his hand. I think he just showed off as a striptease joke for me to enjoy watching him.
David: "Can you feel the soft, curved side of your thumb in your mouth? Do it right now!"
I'm slightly aroused by how he showed it to me and gettin' turned on by this idea. It's almost a success! The art of kissing in the making, maybe. Just maybe.
I put it into my mouth while I obeyed him, and I did what I was told. I've already tasted the curved side of my thumb with tongue and lips, even so, fucking close to the plump palm of my hand that it might be easily injured if bitten. The fact is that the curved side of the thumb and chubby palm is weak, fragile, and soft simultaneously.
David: "This is precisely how you should train yourself to use your lips and tongue. Put it on your lips and make out with it. Don't forget to use your creative juices to the test. Repeat this as many times as you possibly can."
Shawn: "Hmm… All right. I'll try this idea later."
David and I kept walking in the icy air until we reached three dormitories about 40 yards away from the NTID building. I didn't tell him about my fantasy as I recall seeing a lesbian scene in the "Cruel Intentions," set in the late 1990s. This movie had two Jewish actresses, Sarah Michelle Gellar and Selma Blair, like this one, in particular, was one of my favorite scenes, which outdid the whole film itself. This lesbian kiss was EXACTLY how I wanted to kiss David in this situation! I think Sarah Michelle Gellar and Selma Blair have done a fantastic job of inspiring me, and it made me want to believe that it could happen in real life! I sincerely thought that it would've been a blessing gift to fulfill my desires that could become a reality in the making!
FUCK, YEAH! WHY NOT?
When David realized that he saw my face all the time in the Wallace Center library, he became so more increasingly frustrated and annoyed by my presence! He couldn't even begin to understand why I couldn't stop seeing him since I constantly used him as a substance abuse addiction. In fact, David Cardona was my personal manifestation of my drug dependency. I exploited him as a powerful source of yearning, covetousness, hunger, and desire and profited from his emotional availability. I made a grave error in stalking him and following him to the RIT/NTID campus. I shouldn't have been so obsessive about him. I've become exceedingly unbearable and incapable of being healthy towards him. He didn't think I was adequately fitted to function well in my mind.
My obsession with him has become so much more toxic than I thought. David even urged me to focus on my school work instead of returning to him every day, but I refused to listen to his advice. It's NOT his fault that I never learned to watch for red flags right under my nose. I had NO idea there were warning signs. I was so young and naive at 19 when it came to confronting my raw emotions of romance that I had never known before. There was no way I learned how to keep my emotions in check. I've never been in such a state of a love-sick rollercoaster like this in my life. I realized I had abandonment issues as a result of child abuse and neglect. He couldn't get rid of me so fast because I was so deeply involved with him. I have trouble getting rid of him, as well.
After all the days of 2011, it's been 10 years since we've talked, and I still miss him like hell! As of today, we are no longer friends in 2021, and we aren't even able to follow each other on social media accounts because David Cardona is TOTALLY off-the-grid. It's like no one knows if he's alive or not. Or, you know, make me think that guy I met long ago is DEAD now, probably killed by COVID-19. I don't know. He's perhaps been ghosting me for a long time. David Cardona has NEVER loved me as much as I ever loved him. He knows how much I've loved him for a decade. There is still time to reignite the old spark between us. Still, it's unlikely to happen now since I've already informed him about my participation in mental health therapy after I came back to where I was born (my birth state/city).
The worst part was after telling him how I was doing after college on Direct Messages in 2015. David said, "I'm sorry to hear that you're suffering from the diagnosis that your doctor told you about." That was it. That was the last time we spoke on Facebook, then he BLOCKED me. He suddenly stopped communicating with me! What he did to me was really shitty and uncool! I didn't deserve that! I was deeply hurt because I thought he cared about me, but he didn't. I gave myself the sense of false hope that he still does give a damn, but at the same time, I realized I was just a fool in love with nobody that doesn't love me back. He's been avoiding contact with me ever since. I'm like, "David, c'mon! Both of us are Leos. Why can't you and I be just friends?"
Well, yeah. Cry me a river, I guess.
Random thoughts and seductive visual details of David Cardona periodically enter and cross my mind on several occasions over the past 10 years. As a screenwriter, I've already written the fictional story of three adolescents in an unaired TV play that I'm currently working on (screenplay). Belatedly, I realized that idea of David Cardona strongly influenced my thoughts during the early stages of the TV script of "RDD Series 1: Black Rose," and I thanked him for it. What exactly is RDD Series 1? The three main characters are listed like Roméo, David, and Dorothéa (later changed to Diana). In May 2011, I started writing from the point of view of a fictitious male character named David Daniels, as I had already given that imaginary figure a given name before I met David Cardona in September 2011. I thought about changing the character's name by writing him as long as recurring visions of D.C were too much for me when trying to complete the TV script.
After leaving RIT/NTID, I chose to keep the character's name as it became a source of inspiration for me. I wouldn't be able to write that character if it wasn't for him. If somebody is going to be a muse, that's how my mind works, at least for now. Every filmmaker is required to have a muse! Jennifer Lawrence is the inspiration behind three movies made by David O. Russell. She was his one and only inspiration for three films. You may need a muse to inspire your writing or film projects. Without my heroines or protagonists, I wouldn't know where to start writing. Lucifer Morningstar's design in Neil Gaiman's The Sandman (comic book series) was based on David Bowie's hair, clothing, and androgynous looks. Neil Gaiman says he's a fan of David Bowie's concert and record works. A lot of writers and celebrities do this with names they've met in real life. So I know I'm not the only one who feels embarrassed and guilty about using names as inspiration for erotica or media art.
When I write the characters' names, DAVID IS MY FUCKIN' MUSE without a doubt in question! David Cardona, if you read this, then you knew you were the ultimate reason why I was inspired by you in the first place.
crying heavily
David, I want to tell you…
ugly-crying
Thank you for being my muse! I'll always have you in my heart.
crying endlessly
EMILY BORGEL, A.K.A. THE VR COUNSELOR FROM HELL
Funnily, she's the worst double look-a-like version of Meryl Streep. Every time I looked at her, I just thought of that talented actress. I felt sorry for Meryl that she got an evil doppelganger twin.
Emily Borgel was my former Vocation-Rehab Consultant from Hell. She's been treating me so barbarously bad since I started getting into college in Rochester, New York. That fuckin' racist bitch wouldn't let me follow my dreams of being a filmmaker or a screenwriter. She always said NO to every request I put in front of her racist face. She always silences me, even if I tried reasoning with her. She wouldn't pay for the courses I have already chosen to take at the Rochester Institute of Technology. She does NOT believe in my potentiality and as a fulfilled, promising career. She doesn't let me start exploring my future interests as a creative writer.
I know of one of his white clients who recently graduated from RIT/NTID in 2014, and he turned out to be Emily's number one favorite client. His name is Edward, whose story is very different from mine: he had no problem with her. How ironic! Favoritism and nepotism don't make any sense at all. Does Emily have any favorite clients like Edward?
She let Edward get his dream job he wanted! Why him specifically?! Emily likes to work with Hard-of-Hearing clients only if they can speak very well with their tongues. She doesn't like me because I can't talk very well like her. I don't have a cochlear implant on me, but she does. I'm severely deaf in my ears at 100%. She has some toxic biases against her non-verbal clients without similar privileges in the employment positions they search for when trying to get hired. I've eye-witnessed Emily Borgel enjoying the abuse of power over their clients at exploitation and disadvantages. I got many multiple complaints from the Deaf community about her in particular.
Emily always holds her grudges against me for each trivial mistake I made. She continued discrediting and shaming me — racially profiling me, vigorously segregating me in unfair punishments every now and again. She is also one of the multiple reasons I didn't stay that long enough in Rochester, New York.
Guess what?! I could've stayed longer than a half year in Rochester. I don't need to come back home to Missouri, but I don't have the foggiest idea why I came back home in the first place! Why I didn't think about that when I was 19?
"I may not know you personally, but I know you HISTORICALLY."

James Baldwin said it best!
In January 2012, I made threats against Emily Borgel in committing suicide, as I told her in Yahoo! Email correspondences. She immediately called 9-11 and promptly took me to a psychological ward at the Rochester emergency clinic, but I got out in three days. Emily is the reason why I had my psychological meltdown at school. Nobody realizes what was really going on with me at that time.
This is why I like conserving with David Cardona to calm me down. I started to feel better when I interacted with him. I figured nobody can make me feel better until I met David. At the same time, I knew that this is not true. Only if I got my writing babies back that I lost in a damaged flash drive, maybe I would go back to being normal again!
I was just 19! I didn't have the right tools!
Fast-forward to 2021 now, I know exactly how to fix problems if I return to 2011 in a time machine. I would've avoided these problems if I could reverse the timeline. That is to say, if there is a time machine that exists in this world, I couldn't wait to go back to the 2011 timeline. I would've addressed all kinds of problems and solved them all at once. I would've kept my Flash Drive devices from glitches. I'm willing to fix it!
You knew that I'd do it! I don't need Emily helping me in the first place! I would've figured out how to get my dreams to come true without Emily Borgel! You know I'm telling my truth!